One of Spain's worst "festivals" of animal cruelty takes place in the village of Coria. A bull is forced to run for hours through the streets while villagers taunt the animal and throw darts at him. When the bull is too tired and weak from loss of blood to keep going, the villagers shoot him and cut off his testicles while he is still alive. Please join the international campaign against this appalling abuse. 

This horrific cruelty occurs every year between June 23rd and June 29th.
The International Movement Against Bullfights and the Irish Council Against Blood Sports asks that anyone who cares about animals to urgently lodge a complaint with the authorities in Coria.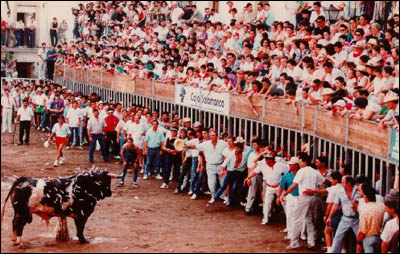 A bull with its body covered in darts stands facing the heartless villagers during Coria's shameful El Toro festival.
While this video is in Spanish, starting at about 2:15 you can see the horror inflicted upon these innocent animals. Even with the language barrier, you'll see that just like rodeo cowards, they hate video cameras and live in fear that their activities will be exposed to the world.
Tell the Coria authorities that abusing bulls is totally unacceptable in modern Spain. If visiting Spain, boycott Coria until the El Toro festival is permanently ended.
City Hall of Coria
Email: This email address is being protected from spambots. You need JavaScript enabled to view it.
Coria Tourism
Avd. Extremadura, 39
10800 Coria
Caceres
Spain
Email: This email address is being protected from spambots. You need JavaScript enabled to view it.
Diputacion Provincial de Caceres
Plaza de Santa Maria, s/n
10071 Caceres
Spain
Email: This email address is being protected from spambots. You need JavaScript enabled to view it.
Fax +34 927255471
(Contact information courtesy of the Irish Council Against Blood Sports)