Published in Chicago's Daily Southtown
October 22, 2006
By Lauren FitzPatrick, Staff writer 
Polish-American professor of Latin American history Michael A. Ogorzaly turned his compassion toward animals into a personal and historical crusade.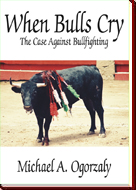 "Bullfighting ought to be ended," he'd tell his wife, Rosamaria Garcia Ogorzaly.
Or as he'd put it, it "belongs in the dustbin of history." 
Ogorzaly's second book, "When Bulls Cry: The Case Against Bullfighting," was published in April. It was the pinnacle of his career as a historian and professor, and he was thrilled to hold the first printed copies, said Bob Bionaz, one of his Chicago State University colleagues. 
All this from a wheelchair, which kept him mobile and relatively independent since he survived a car crash at age 20. Years before the Americans with Disabilities Act, Mr. Ogorzaly had learned to drive a hand-operated van so he could retain his independence, Bionaz said. 
Mr. Ogorzaly, of Chicago's Beverly community, died Oct. 15 of complications after a heart attack. He was 58.
He truly believed bullfighting was wrong and took to task anyone who had sponsored or glorified what he considered a blood sport. 
"It was hard for him to watch," his wife said of his thorough research. "He had night sweats -- he often couldn't get to sleep. He had to see so many of them, and they're just as gruesome on film."
About a decade earlier, he published his first book, "Waldo Frank: Prophet of Hispanic Regeneration." 
Though history was his living and his academic love, his wife said, he really wanted to write novels. 
"He said he'd never write a history book again -- it took so long to footnote everything," Ogorzaly said of the Waldo Frank experience.
Two early stories -- about a handicapped man and a man's adventures traveling in the Philippines -- were destroyed in a house fire that also burned much of the Ogorzaly's personal library. 
But then he was sucked into ending bullfighting the way he could best -- by writing about it.
Bionaz said Ogorzaly didn't write like a historian or academic. Instead, his prose was light, lovely and never pretentious or stuffy. 
He was a straightforward person, too, eager to cut through nonsense and crack a joke whether in class or with friends. 
Mr. Ogorzaly was born July 30, 1948, into a Polish family in the South Chicago community, amid steel mills. The eldest of three children born to a firefighter father and a homemaker mother, he attended St. Michael's grade school and went on to St. Leo's High School. 
He began college at Northern University, where he was in a car crash that left him in a wheelchair, paralyzed from the waist down. The crash also killed a fellow passenger.
Trouble getting a traditional teaching job, since he couldn't write on chalkboards like everyone else, his wife said, sent Mr. Ogorzaly back to school again and again. He earned his first master's degree from Chicago State University, then a second from Notre Dame, where he also earned a Ph.D.
Back at Chicago State, where Mr. Ogorzaly began teaching any class that needed an instructor, he eventually made tenure and full professor. A few years ago, he was voted by his colleagues as department head, but he declined the honor, saying he couldn't quite keep up, Bionaz said. 
He met his wife while she was teaching part time in his department. They married Jan. 7, 1995, and he moved from South Holland to Beverly, to set up house close to the school. The Ogorzalys opened their home to a dog and seven cats, including Mr. Ogorzaly's favorite, Jonathan. 
Only a few times did Mr. Ogorzaly's wheelchair hold him up. 
He had to send his wife to a conference in Mexico where his paper about advertising and bullfighting was to be read because he was warned he wouldn't be able to get around Mexican streets.
"He didn't dwell on it," his wife said of his wheelchair. "He wanted to make something of himself."
Aside from his wife, Mr. Ogorzaly also is survived by his brother, David Ogorzaly; his sister, Karen Larkin; three nephews; one niece; and many friends. 
A memorial mass will be held at 10:30 a.m. Thursday in the University's Meditation Room, Douglas Library Room 306, 9501 S. King Drive, Chicago. A reception will follow in the HPPS Department offices, Williams Science Center Rooms 116A-B.
Memorial gifts may be made to Cats Are Purrsons Too, P.O. Box 59067, Chicago, IL 60659.
Lauren FitzPatrick may be reached at This email address is being protected from spambots. You need JavaScript enabled to view it. or (708) 633-5964.